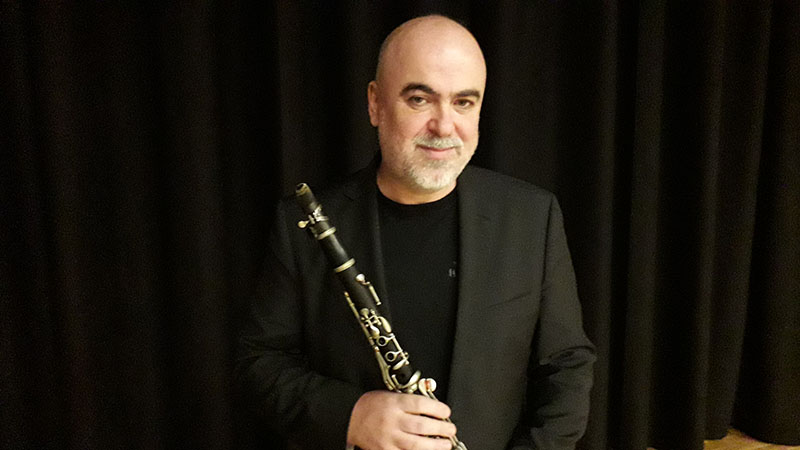 Thodoris Georgopoulos was born September 1968, descended from Kato Lavdani of the Pogoni County.
From an early age he had musical stimulus from get together in his parents' "glentia", the well known Greek home gatherings for food and dance and the local "panigyria" (something like a "glenti" but on a bigger scale, a festival usually taking place in town squares) where the music of Epirus was dominant.
That stimulus was of a defining nature and it shaped his future, making him love music, taking up playing the clarinet and turning him into a well respected master in his field.
He started out by carving his first flute on his own and later in Athens, where he grew up, he continued by taking clarinet lessons.
He was thirteen years old and his desire to play was such that he convinced his father with great persistence to buy him his first clarinet.
In the beginning he practiced on his own, by ear, reproducing the melodies he had grown up with, based on the instinct of his natural talent. Later he became a student of the musicians of the Chaligiannis family from Parakalamos in Ioannina, mainly during the summers when the Georgopoulos family vacationed in the village. Growing up he studied under the Master Clarinetists Vassilis Soukas and Giorgos Brahopoulos.
His artistic career starts very early in his life, at the age of sixteen when he starts playing in various kinds of social occasions (Weddings, Christenings, "Panigyria") as well as with Dance Groups.
At the age of nineteen he was chosen by the Dora Stratou Theater to participate in the orchestra as there was an opening and he played music from all over Greece with them, for 4 years.
Since then he has worked with many societies, clubs, Municipalities' Cultural Centers and
Greek Tradition Cultural Organizations in Greece and abroad where he has travelled quite a few times.
Besides Classical Harmony he has studied Byzantine Music at the Simonas Karras Conservatory. (1990).
His musical search however didn't stop on the clarinet or Greek music so he continued his quest by studying Kaval at the Plodiv Academy in Bulgaria where he came in contact with great representatives of Bulgarian music, musicians like Petar Raltsev, Matio Dobrev, Ivo Papazov as well as his Kaval teachers, Georgi Zeliaskov and Valeri Marinov.
He also met Angel Gadzev who is a Gadoylka player and worked with him in Greece, in concerts and in the studio.
So he broadened his horizons by playing Balkan music thus expressing, by free improvisation, sounds and musical forms beyond the strict national borders, based on feeling.
This "study" period resulted in him becoming an artist who has an opinion about musical developments but also has great respect for the Greek Folk music and a willingness to take things further. He believes that the genre is alive because there are artists who serve in its' front line avoiding the "Mediterranean" approach which tends to put things on hold.
This is the reason why he created his own multimember Orchestra which plays in various Folk and Ethnic Festivals around the world.
He also works with various orchestras in all kinds of activities as a soloist.
He has at times collaborated with musicians and singers from a wide spectrum of the Greek music Scene such as: Kariofili Doitsidi, Chronis Aidonis, Petro – Luca Chalkias, Ross Daily, Eleni Tsaligopoulou, Anastasia Moutsatsou, Eleni Dimou, Glykeria, Giorgos Ntalaras, Dionysis Savopoulos, The Orchestra of Colours, and great psalm singers like Lykourgos Agelopoulos, Thodoros Vassilikos, Thodoros Vassiliou and many more.
He has also been working for a long period of time in concerts and in the studio with Domna Samiou, on a regular basis.
He has worked with Accordion Master Dimos Polymeris, for many years and has recorded two albums themed around the Balkan Tradition with him: North Thraki (published by El.Ke.Lam) in 1994 and Balkan Colours (published by ANODOS) in 1997.
He has his own recording studio and as a producer and arranger he has supervised the following albums: Eastern Romilia Today (RIA) 1998, Christmas Carols (Anodos) 1999, To the Rose (Dodoni) 2001, Songs of the mother 2002, Proschordo (Music Mirror), 2003, Arabas perna (chyrch of Nikopolis-Preveza) 2007, Akoluthia tou agiou Xaralabous ( Prefectyre of Preveza) 2008.
Personal discography: Songs of the Arvanites (Municipality of Fyli) 1990, Pogoni Deropolis (K. Labdanis' Brotherhood of Pogoni) 2004, Western East (Music Mirror) 2006.
He has been a teacher of traditional/folk wind instruments for the Alimos' Music High School.
He is married and has two daughters, Eleni and Maria.